Ultrapac - 360 Series™ Sleeve Packs
A sleeve pack is a reusable, unit load shipping system designed to store and transport parts or goods in a closed-loop supply chain. Sleeve packs consist of a collapsible sleeve and a shipping platform. Typically, sleeve packs nest and stack together for optimum shipping and storage space.
Features and Benefits
Primex Ultrapac – 360 Series sleeve packs offer up to 85% volume reduction in storage and empties return. In addition to volume reduction, sleeve packs are an eco-friendly packaging solution. Made of our patented Bubble-X material, our sleeves are 100% recyclable.
Benefits of sleeve packs include:
High stiffness
Lighter weight than bulk molded containers
Moisture and weather resistance
Impact and tear resistance
Totally recyclable
Dust-free
Non-toxic
Chemically Inert
Ease of Handling
Sleeve packs are lighter weight when compared to molded bulk containers, with sleeve packs weighing in at an average of 56 lbs* and molded bulk containers weighing in at an average of 136 lbs**. With sleeve packs, no equipment is required in order to move individual pallets or sleeves. These combined lend the potential for less injury.
*56 lbs. based on 8mm Bubble-X™ (400#) Sleeve Pack with two 45×48 SS thermoform MI pallets (.25 starting gauge)
**136 lbs. based on the average weight of five different injection molded 4845-34 models produced in the industry.
Repairs and Maintenance
Sleeve packs have little to no repair or maintenance issues to worry about due to the fact that there are no hinges, latches, panels, or side panel rods to replace or scrap.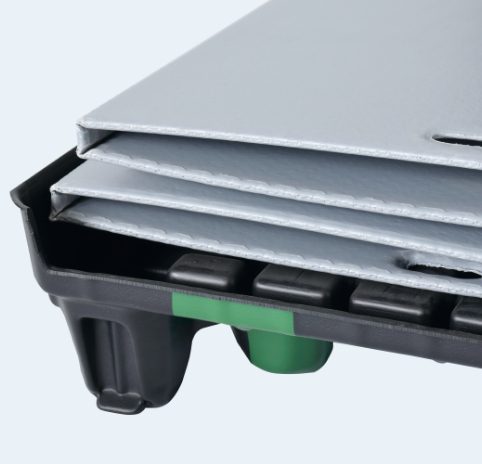 Ready to Talk?
We work with ambitious leaders who want to define the future, not hide from it. Together, we achieve extraordinary outcomes.
"*" indicates required fields